Early Bird Breakdown Week 17: Detroit Lions @ Green Bay Packers
Hello all! Welcome to the final regular season Early Bird Breakdown! Let's begin with the recap:
The Recap: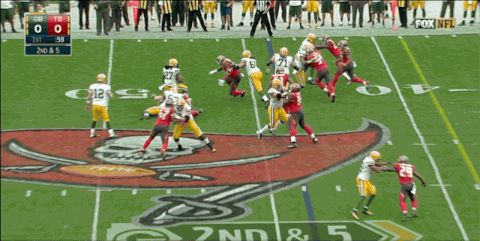 Last week the Green Bay Packers secured their spot in the playoffs with a 20-7 win over Tampa Bay that was not even that close. The defense continued to look great, albeit against a very poor offense in Tampa and the offense was efficient at moving down field, though it did not always produce points.
The Lions barely beat a Bears team lead by backup Jimmy Clausen in Chicago last week. In fact, if it were not for eight drops Chicago would have beaten Detroit, as they even had the game winner dropped. Give the Lions defense credit for continuing to make stops when it mattered most, but that was an ugly win against a bad opponent. 
The Breakdown:
Packers' Offense vs. Lions' Defense:
Green Bay's offense is still looking to make a statement against a top flight defense and what better way to try and do so than against a division rival. The Packers were embarrassed week 3 losing in Detroit 19-7. While the Packers offense has been significantly better at home than on the road, Detroit is far and away the best defense Green Bay will have hosted in Lambeau this season. The Lions are currently the second best defense in the league behind Seattle, giving up only 295.9 combined yards per game.
Detroit's main emphasis this year has been using its dominant front to both take away the run and rush the passer. Despite losing defensive tackle Nick Fairley the last week of October to a season ending injury, their run defense has improved, giving up only 52.1 yards per game on the ground since. The key is Ndamukong Suh, the star defensive tackle and best overall defensive tackle in the league. Detroit only blitzes on 25% of its plays, mostly utilizing the front four for pressure and letting everyone else in coverage.
If Eddie Lacy does what no one has done all season and can successfully run on this Detroit Lion's defense, look for McCarthy to give it to him quite a bit, though I do not think he will stick to the run as long as he did in Detroit when it was not working. In the likely scenario where the Packers running game is stopped by the league's best run defense, look for the Packers to use short screens and flat routes to simulate the run with small gains. Lacy has been very effective at catching the ball and this will most likely be where is impact is felt. If Detroit is having its first off day then expect the red-hot Lacy to have plenty of touches, but that is unlikely.
Detroit's defense plays the blueprint to beating the Packers, as the Lions did earlier this year and the Buffalo Bills recently showed that it still worked. However, Buffalo is a more talented defense in its secondary as well as Green Bay's receivers literally dropped the chance to win against that kind of defense. This is no Seattle Seahawks defense, there are holes in the back seven that can be exploited if Aaron Rodgers is given enough time.
Green Bay's offensive line has shown so much improvement that they very well could hold up quite well against the Lions. Buffalo was held without a sack until the very end when backup JC Tretter, who replaced an injured Bryan Bulaga, gave up the sack fumble but actually even he played well in relief. The offensive line is in full health and like the defense has looked great down the stretch. Suh is the biggest problem for them as it depends on where he lines up. Pro Bowl guard Josh Sitton should be able to slow Suh enough but TJ Lang or rookie Corey Linsley will have their hands full depending on where they put Suh on the line. Overall, with Rodgers ability to move around in the pocket and if the offensive line can block as they have over the last month, Green Bay's going to have the opportunity to complete some passes.
As long as the receivers do not repeat their Buffalo performance, which was more of an aberration than truth, they should be able to move the ball a bit down field. I say, "a bit," because Detroit will keep help over the top to eliminate the big plays. Rodgers and the receivers will have to capitalize on the few downs when Detroit does bring added pressure and the receivers have their one-on-one match ups.

Packers' Defense vs. Lions' Offense:
Green Bay's defense has been so hot, it has nearly clawed its yearly defensive totals into the top ten, they now sit at twelfth overall. The biggest factor has been the move for Clay Matthews to inside linebacker. While he still has said he prefers the outside, Green Bay sorely needed the inside playmaker he is and I fully expect (and hope) that becomes our top priority in the draft so Matthews can return to the outside next season. Green Bay's defense shut down a bad rushing team in Tampa last week and faces a similarly bad Detroit team on the ground. The Lions are only 27th in the league at running the ball, only gaining 87.4 yards per game. While they will try to mix in runs to keep the defense honest, the game will come down to the passing attack, which pits the tenth rated pass defense against the eleventh ranked pass offense.
Obviously the key matchup in this game is Calvin Johnson, the best receiver in football, against the Packers secondary. Packer fans sorely remember what Julio Jones did on Monday Night Football in Green Bay earlier this month, and I'm sure coaching staff does as well. I hope Dom Capers knows better this time than to leave a 6'5" wide receiver with a 4.35 forty-yard dash time alone in single coverage. If Green Bay does not put two bodies on Calvin Johnson all game, that will open the door for the Lions to score.
Scoring overall has been a big problem recently for Detroit. They have had to rely on comeback wins and the defense making stands to beat lowly opponents such as Chicago on the road, Minnesota at home, and combined to score 15 points against Arizona and New England, both of which were road games. The offense has not traveled particularly well, and Stafford has made early mistakes. While he has led some amazing game ending drives, Detroit tends to like to put itself behind the eight-ball and will have a tough time coming back if Green Bay's defense gets fired up early, especially with Rodgers on the other side gets to hold onto an early lead.
Detroit also will be without starting center Dominic Raiola after he stomped on a down player with his cleats. This loss was expected as soon as the play happened last week in Chicago, but it is noteworthy because Stafford will have to work with a new center in a hostile environment so there very well could be snap issues.
The Weather Factor:
The expected weather for the game is 26o with some scattered clouds, light wind, and no precipitation.
The Game:
This is it, the biggest game of the season. While both of these teams will be playing in January in the playoffs, the circumstances for the winner and loser will be drastically different. One will be able to get a bye and at least one home game, while the other will have to play the following week on the road and would need three straight road wins to get to the Super Bowl. While there are a lot of ways this game can go, as both teams have had offensive lulls recently, things seem to be pointing in the Packers favor. Number one is that even when Green Bays' defense was not stopping anyone back week three of the season, they were able to stop Detroit for over three quarters that game, and this defense is far superior to the one Detroit played back in week three. Two, Detroit's offense has been playing much worse since then, using a lot of luck and a lot of comeback magic to get to eleven wins. Three, Green Bay's offensive line has seen a vast improvement throughout the year and has been stellar recently, giving Rodgers time to throw against very talented teams. And finally four, Green Bay plays significantly better offense at home than on the road. Let me be clear, if Green Bay's offense plays anywhere close to it did in Buffalo the Lions will win this game. I just do not see that happening here in Lambeau field. Green Bay will be able to get yards and first downs throughout the game, but points will be at a premium and I respect Detroit's defense enough to think they keep the game very close, especially in the first half. On the other side, I think that the Lions struggle early against this feisty Packers defense. This causes Green Bay to keep their offense on the field eventually wearing out the Detroit defense. Ultimately, I believe the Packers are the NFC North Champions and win with Green Bay 27-20 over Detroit.
Fantasy Extra:
Start'em:
Jordy Nelson – Nelson is even more on fire at home than Rodgers is and will have a few opportunities for a big play on the couple blitzes the Lions will throw his way.
Calvin Johnson – Time and again, Capers shows ineptitude in covering gifted athletes properly
Sit'em:
Eddie Lacy – Since the beginning of November, the Lions have given up just over 50 yards per game on the ground. Rodgers will throw some his way, but with virtually nothing expected on the ground he is a risky play.
As always, go Pack go! Stu Weis -Journalism graduate 2012, Carroll University