Analysis: 
Ka'dar Hollman is a pick we could have seen from a mile away. Hollman posted an elite RAS and he was brought in for a top 30 pre-draft visit which both fit the draft profile for Brian Gutekunst, especially in the late rounds.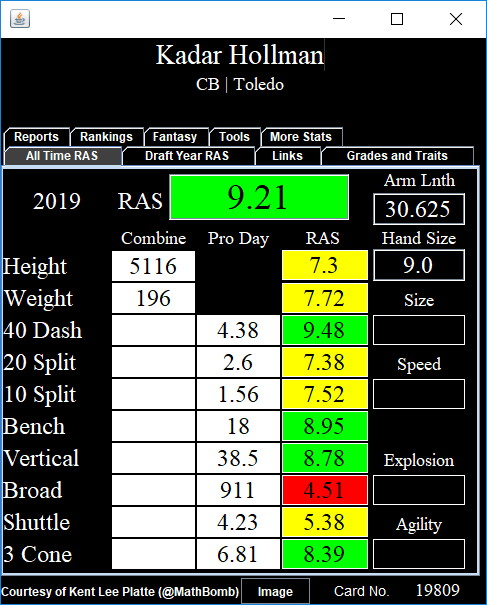 The Toledo CB comes in a little undersized but put his name on the map after a tremendous pro day. Hollman is a super agile corner that started for 3 years. Ka'dar needs to be a little more consistent down field, but for a 6th round prospect, he has all the tools to become another promising player in Pettine's defense. Hollman only forced 1 interception his senior year but he did deflect a whopping 12 passes.
If nothing else, Ka'dar will come in on day one and play lights out on special teams; hopefully a little more calmly than Tony Brown.
Team fit: 
Hollman will come into a defensive backs room that is loaded with young talent in all positions. Luckily for him, the CB position is filled with a lot of uncertainty outside of Jaire Alexander. Kevin King is great when he's on the field, Tramon Williams is on his last tank of gas, Josh Jackson was inconsistent at best (although, I believe he was played out of position in the slot), and Tony Brown is still far from a finished product.
NFL Player Comp  – Jair Alexander & Tony Brown
I am not a fan of player comps but this one seems pretty easy to make. Ka'dar has the same small frame and twitchiness as new teammate Jaire Alexander. He also plays physical at the line much like Jaire. Ka'dar and Brown posted very similar testing scores and I expect Hollman to perform well on special teams as he works his way into the cornerback rotation.