It's July. Packers Family Night tickets are on sale. We are not just over 20 days until the Packers kick off training camp. All is quiet right now at 1265 Lombardi Avenue, but the business side of things is busy planning the Packers Experience kicking off at the start of training camp.
The Packers Experience is a three-day free festival for fans of all ages, and starts on July 25th in conjunction with the first day of training camp. This is the second year the Packers will hold their three-day Packers Experience Festival.
The festival features numerous interactive stations, a 40-yard days, a replica of the Packers locker room, photo stations, and plenty of activities for kids. Plus, Alumni will be available in the Johnsonville Tailgate Village to answer fan questions.
The Packers Experience will be open from 10 a.m. – 4 p.m. the first three days of training camp.
If you were unable to attend the experience last year during training camp, you definitely want to add it to your itinerary if you are planning to be at training camp this year. This festival is very similar to the NFL experience that is put on at the NFL Draft and Super Bowl every year.
It's not too late to start planning your vacation to Packers Training Camp. Below is the complete schedule for when the team will be practicing. Packers training camp is one of the best fan experiences in the NFL. Fans have an opportunity to get up close with the players as they make their way from Lambeau Field to the Don Hutson Center. This year marks the Packers 74th training camp.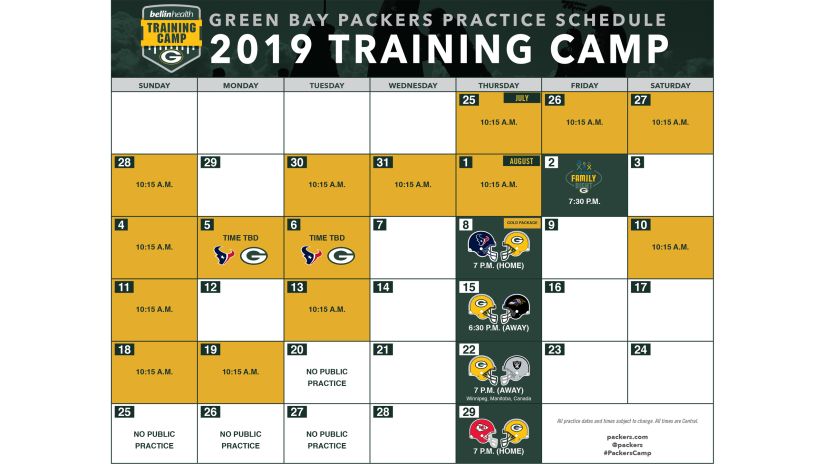 Anthony Haag is a writer for PackersTalk.com. He has been a Packers fan since the day he was born and truly bleeds green and gold. He makes annual visits to Lambeau Field and has attended his fair share of games. You can follow Anthony on Twitter at @anthony_haag