News broke on Wednesday that the Packers will be without Aaron Rodgers on Sunday against the Kansas City Chiefs after he tested positive for covid-19. This sets the stage for Jordan Love to make his first NFL start, and it happens to come against Patrick Mahomes. After one of his finest coaching performances of his young career last week, Matt LaFleur will have an even taller task with only 4 days to prepare for a game without the reigning MVP.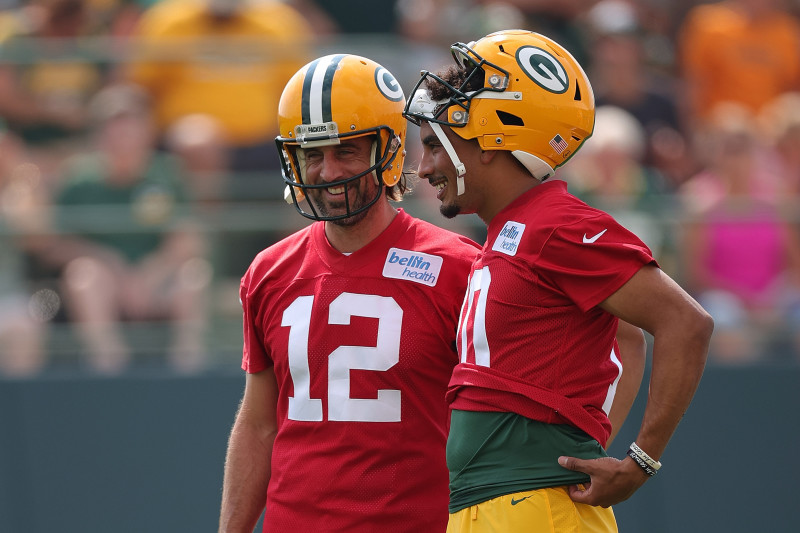 The Packers can look to last week for some encouragement going into this match-up. The Chiefs struggled to put away a Daniel Jones' led Giants team, and sit at a modest 4-4 record through 8 weeks. And the Packers offense sans Rodgers will be at its healthiest point yet this season- with the likely return of David Bakhtiari, along with WR's Davante Adams, Allen Lazard, and MVS. Love will have a full complement of weapons, going against one of the statistically worst defenses in the league. The Chiefs rank 31st in defensive DVOA (30th vs pass, 29th vs run).
This will once again be a game where the Packers can lean on the 1-2 punch of Aaron Jones and AJ Dillon. The biggest benefactor from this plan of attack will be the Packers defense. They were able to contain Kyler Murray last week, in large part thanks to the Packers ability to dominate time of possession. They held the ball at nearly a 2 to 1 advantage over the Cardinals. The Packers need to do all that they can to keep Patrick Mahomes and Tyreek Hill on the sidelines.
The return of David Bakhtiari would also shore up the offensive line, which is obviously huge for any young quarterback. Jordan Love looked at his best in the preseason when he was able to make his reads in rhythm. His struggles mostly came when he was forced to improvise and leave the pocket, with a few questionable decisions turning into big turnovers. The strength of this Kansas City defense is in their front 4 – with Frank Clark and Chris Jones coming on strong in recent weeks. Jordan Love is capable of making plays against this secondary if he is given the opportunity to get the ball on time, and take a couple shots off of play action.
Conversely, for the Packers defense their key to success will be to continue to limit big plays. Kansas City has struggled this season sustaining drives. They lead the NFL with 19 giveaways, and Mahomes has thrown at least 1 interception in 7 consecutive games. They also had over 100 yards in penalties last week against the Giants. The Packers should be able to sit back into their 2 deep shell defense and try to force the Chiefs into long drives knowing they don't have to honor what has been an ineffective Kansas City ground game.
Matt LaFleur has started to garner some well deserved national attention following last week's win over the Cardinals, but if he can somehow escape Arrowhead with a victory, he should begin to be talked about in the elite tier of NFL head coaches.
——————
Jared is a rogue Packers fan from a Steelers family and an overall football junkie, including playing 4 years at Ithaca College. You can follow him on twitter at @JPrugar.
——————