A few days ago, Bleacher Reports Chris Roling proposed a blockbuster trade in which the Cleveland Browns' would trade disgruntled-yet-talented tight end David Njoku to the Packers for a second-round draft pick. The justification, of course, has been that with the departure of Jimmy Graham, the Packers are, once again, on the search for the replacement for Jermichael Finley, as they have been doing since Ryan Braun was suspended from baseball. Remember that? It was a long time ago, right?

It appeals to the most Pavlonian instincts of Packer fans, who have been jonesing for receiver help since the year 2000 for a veteran quarterback with a imminent closing window.
Yes, except for the salad days of 2009-2013 or so.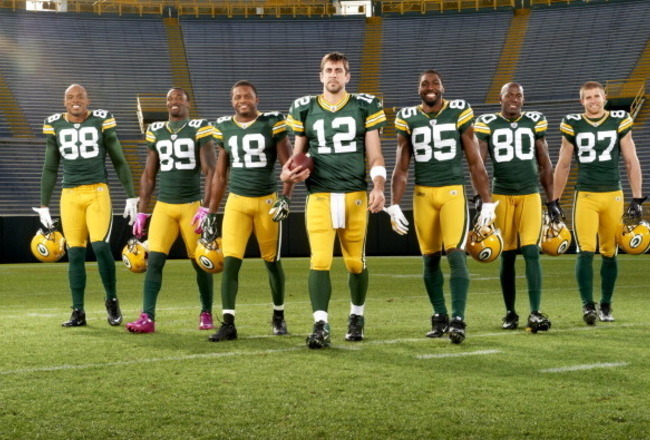 But, as the Packers have bid farewell to receiving stalwarts Jordy Nelson, Randall Cobb, Jared Cook, and Graham over the last several seasons, the guys catching that ball from Aaron Rodgers are Davante Adams–and a whole lot of interchangeable third-tier guys that we just keep hoping are going to go from Day Three draft status/street free agents to capable, consistent #2's through the power of our own fervent prayer.
And so, the circle is complete: in the mid 2000's, Packer fans begged Ted Thompson to invest in some prime-free agents to get an aging Brett Favre one more chance at a Lombardi Trophy. Anyone else remember Packers fans acquiescing to the thought of Randy Moss in green and gold (for a hot second, at least)? After all, in 2005, Favre was passing to Donald Driver and….well, a bunch of nobodies. Sound familiar?
But for every fan begging for immediate wide receiver help, there were pragmatic Packer fans who knew Thompson was building a team for the post-Favre era. Perhaps Favre stuck around longer than even Thompson though he would, when they were within one interception of a Super Bowl in 2007. Regardless, all that was forgotten when young Aaron Rodgers took the team Thompson built to a Super Bowl in 2010, stringing together an incredible 22-straight wins with a star-studded receiving corps.
So, here we are again, with many believing we need to trade away the entire draft for wide receiver help for a 36 year-old quarterback, just as we did with Favre in 2005. The latest proposition has us giving up a second-rounder for an underachieving tight end from Cleveland.
And as you know, we've had so much success with our trades with Cleveland the past few years.
How Important is Draft Capital Right Now?
After reading Roling's article, all I could think was, "Why would we trade away that high of a draft pick at this time?"
It really makes no sense. When you look at General Manager Brian Gutekunst's 2020 Draft Class, particularly the first two days, it's pretty clear that he is drafting for a post-Rodgers Packers team.
Obviously, trading up for Jordan Love in the first round, and giving him a 100% guaranteed contract has the clock ticking on Rodgers' time with the team. The picks of running back AJ Dillon and tight end/H-Back Josiah Deguara also prophesizes a time when either Aaron Jones or Jamaal Williams (or both) are no longer on the roster.
Now, if that target season is 2022, the Packers have a lot of work to do to build an competitive team around that backfield, including, but not limited to, receivers.
The downside to having a GM not named Ted Thompson is that the Packers have started following the path of other NFL teams: investing big money in unrestricted free agents. While the payoff has been huge, as in the case with pass rushers Preston Smith and Za'Darius Smtih, the other shoe has been the strangulation of the team salary cap. As the cap hits of these first-tier free agents balloon over the life of their contract (with no help from the megadeal extension that Rodgers himself signed in 2018), the Packers have handicapped their ability to not only sign more top-tier free agents, but to re-sign their own free agents from within.
And, as we all know, the end of the 2020 season brings us to several veterans that we all know we need to re-sign, but literally do not have the funds to sign more than one out of David Bahktiari, Corey Linsley, Aaron Jones, and Kenny Clark. Add to that some big raises for players like Jamaal Williams, Lane Taylor, and Kevin King, and it is clear that next season's offseason may look an awful lot like this past one.
The Packers had no choice this year to allow productive veterans walk to other teams without compensation, and without a ready replacement waiting in the wings. Stalwart tackle Bryan Bulaga leaves a big hole on Aaron Rodgers' blind side, while ILB Blake Martinez takes his team-leading tackles for a price the Packers were unwilling to spend.
Which is why I propose the unthinkable: it's time to trade all three of our big UFAs before the 2020 season starts.
Time To Trade Bahktiari, Clark, Jones, and Linsley
Bear with me here, but if you are truly dedicated to rebuilidng this team around Jordan Love, you don't stick out a COVID-19-impacted season with guys you know you can't afford, just to get nothing in return.
If there's anything we will look back wistfully upon from the Thompson Era, it was our inevitable ability to extend our valued veterans before their final year, absorbing signing bonuses out of the unspent money and keeping the guys they needed to keep (often with a little bit of a hometown discount).
There's no doubt that Bulaga and even Martinez would have been extended under Thompson. The other shoe, of course, is we wouldn't have the Smith Brothers, either. However, this is now Gutekunst's world, and we're just living in it.
Gutekunst's World, if you read the tea leaves correctly from the 2020 Draft, is a vision for the team a few seasons from now, not in 2020. It's very much like Thompson's 2005 season, a cap-clearing year in which the QB of the Future was drafted in the first round, along with some eye-raising top picks that would take a few seasons to grow into their positions (Nick Collins, for example).

But a team up against the cap, as the Packers are for the next few season, only have one way to improve their team, and that is the draft, and hitting on those first 3-4 picks to bring in future starters and superstars (and give them time to develop). Jordan Love is not a ready-for-prime-time quarterback–but he will be, someday. The story sounds awfully familiar to 2005, doesn't it?

The difference, however, is that Gutekunst's Packers have a lot more cap space filled than Thompson did, and now is not the time to fork over a second-round pick for a disgruntled tight end from the most undisciplined team in the league.
The Packers are looking at the final year of those three players' contracts with the foreboding of not even collecting their value this year. In a recent informal Twitter poll, only 22% of Packers fans believe there will be a full NFL season and post-season this year, with 33% believing the entire season will be called off.
The Packers can not, and should not, allow their valued free agents to walk off this season without compensation, if they are unlikely to even get a payoff of participation in their contract year. Teams like the Colts, Chargers, and Jaguars are looking at well over $90,000,000 in cap space for 2021. They have plenty of ammunition in the draft and plenty of space to extend our players if they were traded.
According to Tankathon, those teams are projected to own the 1st, 10th, and 17th pick in the NFL Draft in 2021. If there isn't any season in 2020 and the draft defaults to this past summer's order, the picks would be at #6, #9, and #13.
Look, I will be the first to admit I hated Thompson's strategies in 2005. I thought he was intentionally sandbagging the team and sabotaging Favre's chances for another Super Bowl. I didn't know what the plan was and I spared no bones in condemning it.
That is, until the quarterback of the future stepped in and won a Super Bowl in 2010, just five years later. Then, I was fine with it all.
I do not know what Gutekunst's plan is, and I was just as flabbergasted as everyone else on Draft Day. But what I've learned is that, sometimes, you just need to trust the process. The writing is on the wall for how long Aaron Rodgers is going to be representing green and gold. And while that hurts, if the payoff is more Super Bowl seasons in the years following, then its worth it, isn't it?
And the easiest way to get from here to there is hitting on your Day 1 and Day 2 draft picks, and building a young and affordable team around Jordan Love for 2022 and beyond.
If you accept that this is our rebuilding year, and that there are many players on the roster right now that won't be there in two seasons, it makes perfect sense to gain as much draft capital as you can.
Does that mean Rodgers might spend the 2020 season running for his life, passing to guys with sponges for hands, always playing from behind with just not enough juice to pull ahead, game-to-game?
Probably. After all, isn't that how Favre spent his season in 2005?
It starts with building draft capital, and striking while the iron is hot. And there's no time like the present. And honestly, I probably wouldn't propose this if we knew for certain there was going to be a season this year.
So, this is the right time.
——————
Follow Packers Talk Radio Network: Follow @PackersTalkNet
——————