The big-wigs are at the bargaining table for the first time since the lock-out preceding the 2011 NFL season and are considering a change that would have made the Green Bay Packers number two seed in the 2019 playoffs no better than a Wild Card round team.
According to a Yahoo! Sports report and many other outlets, NFL owners are proposing adding not only an additional regular-season game but an additional playoff spot in each conference as a part of the next collective bargaining agreement.
Interesting concept Mr. Billionaire. I wonder why you'd want to do that…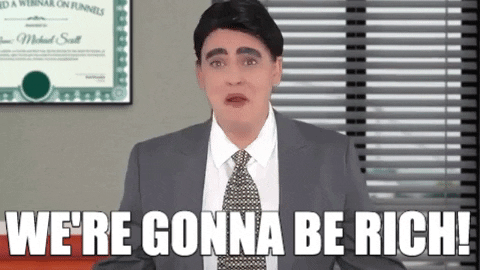 At first glance, I don't love it.
The NFL regular season is the most important in professional sports. That importance stems from the fact that there are only 16 regular-season games, making each one critical. Plus, only 37 percent of teams make it to the tournament. For comparison sake, let's do some quick algebra (or maybe simple division) to understand that difference:
NBA: 16 playoff spots/30 total teams = 53%
NHL: 16 playoff spots/31 total teams = 51%
MLB: 10 playoff spots/30 total teams = 30% (but the 162 game regular season minimizes the impact of individual games)
Under this proposal the NFL's percentage ramps up to 43 percent. WHAT! Just under HALF of the teams would earn a shot at the Lombardi. We're trending towards participation trophies.
For comparison sake, let's first take a look at the teams who would have been in the 2019 playoffs under the proposed expanded playoffs:
NFC: The Los Angles Rams who finished 9-7 overall, 5-3 at home, 4-4 on the road and 3-3 in the division. A disappointing season coming off a Superbowl loss. Worse records have made the playoffs. Most recently the 2014 Panthers at 7-8-1. This year Philly got in at 9-7 but had a 5-1 divisional record. Both teams won their division. But when a team with this type of record gets in there is always hot take artists who want to scrap the NFL seeding system into one that allows more "deserving" teams to get in.
AFC: The Pittsburg Steelers who finished 8-8 overall, 5-3 at home, 3-5 on the road and 3-3 in the division. We're allowing a non-division winner in with a .500 record? I need not say more.
Not only does this new system reward mediocre regular-season records, but it also punishes great ones. The Green Bay Packers earned the number 2 seed in the playoffs and a first-round bye with an undefeated divisional record and 13-3 overall. By adding this additional playoff spot, here's the Packers (projected) path to the 2019 NFC Championship:
Wild Card Round:
– (7) LA Rams at (2) Green Bay Packers
– (6) Minnesota Vikings at (3) New Orleans Saints
– (5) Seattle Seahawks at (4) Philadelphia Eagles
Divisional Round (projecting Packers win vs. Rams and 2019 wild card results) :
– (6) Minnesota Vikings at (1) San Fransisco 49ers
– (5) Seattle at (2) Green Bay Packers
Conference Championship:
– (2) Green Bay Packers at (1) San Fransisco 49ers
Yes, the Packers would have only one additional (home) hurdle to overcome. But, let's not forget the importance of the bye that comes with the number two seed. The chance to regroup, get healthy and prep for your opponent. This scenario could have played out catastrophically for the Packers when you consider the brutality of the NFL and potential for injury. What if a freak injury occurred to a key player in Wild Card round victory? How does that shape the Divisional Round game? Who's to say McVey wouldn't out-scheme LaFleur as Shanahan did in two match-ups this year? Where's the reward for an outstanding regular season? There are way too many question marks here.
Add another regular-season game? Sure. Add two. Extend the regular season to mid-January. But let's not reward mediocre teams with a chance in the tournament and reward the teams who've been exceptional all year long.